The majority of women are born with breasts that are slightly uneven. Fortunately, most cases are mild and go unnoticed. Women who are self-conscious about the size and look of their breasts due to asymmetry may decide to correct them with cosmetic breast surgery. When breast asymmetry is severe, the surgery can be more challenging. This is often the case when one breast is a full cup size or larger than the other breast. Female plastic surgeon, Dr. Alexandra Hart provides a unqiue skillset to ensure her clients achieve natural looking results. Dr. Connors, voted "Best of Atlanta" for Breast Surgery in 2013 and 2012, treats hundreds of women each year, giving them beautiful, proportionate breasts.
Plan Your Procedure
Recovery Time: 2-4 Weeks
Post-op Follow-up: 2 Weeks
Procedure Recovery Location: Outpatient
Explore Topics on this Page
Surgical Techinique
Breast asymmetry is a condition that can be corrected using a number of approaches. During your consultation, we will discuss the various surgical techniques and work to choose a plan that meets your aesthetic goals.
Breast Implants
A common method to correct breast asymmetry is placing a breast implant in the smaller breast. Implants can also be placed in both breasts, using different sizes until the shape and look of the breasts are even.
Breast Reduction
If a patient decides she would like her breasts to be closer in size to the smaller of the two breasts, a breast reduction may be performed. This involves removing excess fat and skin from the larger breast until it is the same size as the smaller one. Some cases may require a lift if the breast was excessively large.
Breast Lift
A breast lift may be performed on the larger breast if it is sagging or pointing downward. This helps to reposition the larger, sagging breast so it is closer and in better proportion to the smaller breast. Again, it is very common to combine two or more of the techniques mentioned in the above order to accomplish the aesthetic goals of the patient.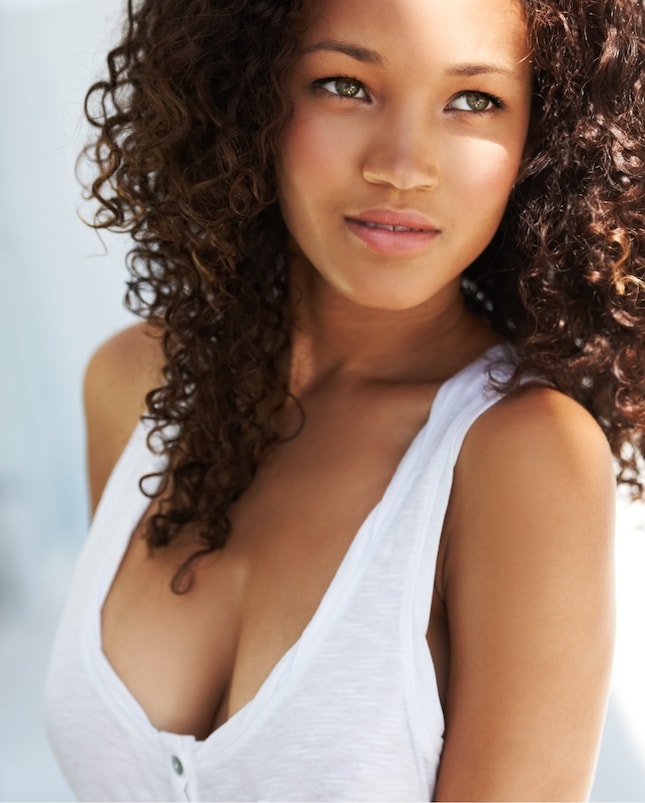 During/After Surgery
All breast surgeries are performed under general anesthesia at an accredited surgical facility. If a breast lift is included, the recovery will last a little longer. On average, patients can expect to return to work within a week, and slowly resume exercise within 2-4 weeks. The outcome of this surgery can be quite liberating, resulting in breasts that are natural, symmetric and attractive. This surgery allows women to regain their confidence in situations where their breasts may be on display, such as when wearing bathing suits and tighter-fitting clothing.
Breast Asymmetry FAQs
How Common Is It?

Breast asymmetry is very common. In fact, a large majority of the female population will have some asymmetry, but it is usually not obvious enough to cause worry or warrant surgery. When breast asymmetry causes feelings of discomfort or self-consciousness, surgery may be a consideration.

What About Scarring?

If a breast lift is part of this procedure, some scarring will occur. However, the extent of the scarring will depend on what incision pattern was used. There are varying techniques that can be incorporated during a breast lift surgery. This can be discussed in detail during your consultation. For women who have endured extreme asymmetry, the scars become secondary to having even, natural looking breasts.

What Causes Breast Asymmetry?

The exact cause of breast asymmetry is unknown. However, it is believed that hormonal changes are a big contributor. Traumatic injury to the breast and nursing can also cause breast size to change. In addition, medical experts also note that a condition known as juvenile hypertrophy of the breast is a cause of extreme asymmetry. This is a genetic condition that causes one breast to grow significantly larger than the other.