Chin augmentation helps to bring the chin into proportion with the other facial features. This is often done with the placement of a biocompatible, flexible implant that is designed in a variety of shapes and sizes. Candidates for this surgery feel as if their chin is too small, or that they have an obtuse neck, which lacks the angles that define a strong profile. Some patients may require chin reshaping (genioplasty), which surgically alters the underlying bone structure of the chin. Our surgeons utilize 3D Vectra Imaging, so that together, a post-surgery facial profile can be created.
Plan Your Procedure
Recovery Time: 2-4 Weeks
Post-op Follow-up: 2 Weeks
Procedure Recovery Location: Outpatient
Explore Topics On This Page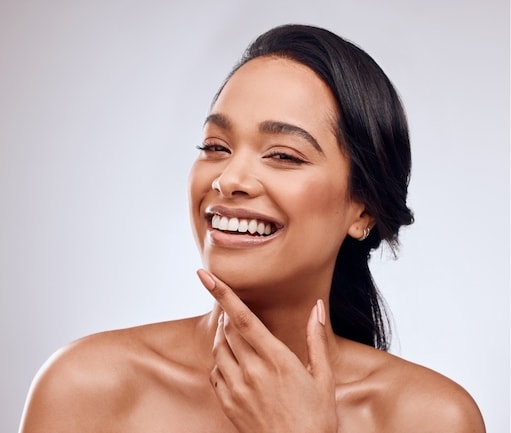 Chin Augmentation FAQs
What About A Double Chin?

Chin implants are designed to offer patients a sharper, stronger look to their jaw line. Those who have a "double chin" may be better candidates for a liposuction procedure where the fat within the chin and neck is removed. Sometimes this technique alone can create a new profile and look without needing to have an implant procedure.

Will Sensation Return?

It will be very normal to feel numbness and a change in skin sensation following chin augmentation surgery. As the implant gets used to its new habitat, nearby tissue and jaw line structures will also get used to having it there. Several weeks after surgery, this heightened sensation will begin to subside and, over time, normal sensitivity will gradually reappear. It may take up to a full year for patients to regain full sensitivity.

Visible Scars?

Scarring is very minimal with chin augmentation surgery because the incision is placed either on the inside of the mouth, where it is completely hidden, or it is made under the chin or below the chin hidden in the chin crease. Even the incision done under the chin will be mostly concealed or hard to see during social situations.

What About Genioplasty?

In addition to chin augmentation with implants, some individuals may be suitable candidates for genioplasty. This is a procedure that reshapes the chin by surgically repositioning the chin bone. This procedure is more complex than implants alone and is sometimes considered a reconstructive surgery. In some cases, genioplasty will be done in combination with neck liposuction and chin implants.