Regardless of how often you work out or how well you eat, a sculpted look can be difficult to not only achieve, but maintain. Many of our patients appreciate the extra "boost" that non-surgical body sculpting gives them – helping to improve their muscle tone and definition. Double Board-Certified Plastic Surgeon, Dr. John Connors, is proud to offer the revolutionary EMSCULPT®, a non-invasive treatment that simultaneously burns fat and builds muscle to sculpt and contour the body. Patients who are at a healthy weight that desire additional contour will benefit from EMSCULPT®. The treatment uses HIFEM (High-Intensity Focused Electromagnetic) Technology to promote supramaximal muscle contractions that build muscle at a cellular level. When exposed to the series of contractions, muscle tissue is forced to adapt and respond resulting in the enhancement of current muscle and the creation of new muscle. In some areas, EMSCULPT® has also been proven effective in fat reduction. It is designed for both men and women seeking an enhanced muscular appearance of the abdomen and/or buttocks.
To learn more about non-surgical body sculpting through EMSCULPT®, we invite you to call the office to schedule a consultation today!
Explore Topics on this Page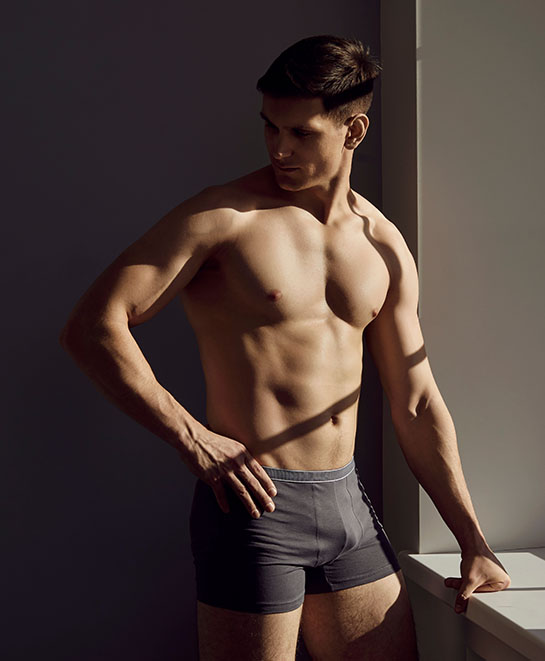 Procedure Technique
EMSCULPT is performed inside our Atlanta, GA plastic surgery center, and the treatment typically lasts about 30 minutes. Patients are able to relax while our team prepares the treatment area. The EMSCULPT HIFEM device uses the same principles as common muscle building exercises like squats and crunches to trigger muscle contractions up to 20,000 times in a single session. During treatment, Dr. Connors takes great care to monitor and alter the device as necessary so that you are as comfortable as possible while achieving optimal results. The EMSCULPT procedure, according to our patients, feels similar to an intense workout as the muscles contract. Patients will feel this during treatment, but there is generally minimal discomfort.
What To Expect
In most cases, there is no downtime or recovery associated with EMSCULPT, and most patients are able to return to normal daily activities. Immediately following treatment, there may be some redness, as well as slight swelling and soreness, but this subsides within a few hours or a couple of days, depending on the areas treated. Optimal results for EMSCULPT are usually seen after a series of treatments. During your consultation, a customized treatment plan will be developed specifically for your body type and aesthetic goals, but most of our patients receive anywhere from 4 – 8 treatments that are typically spaced about 2 – 3 days apart.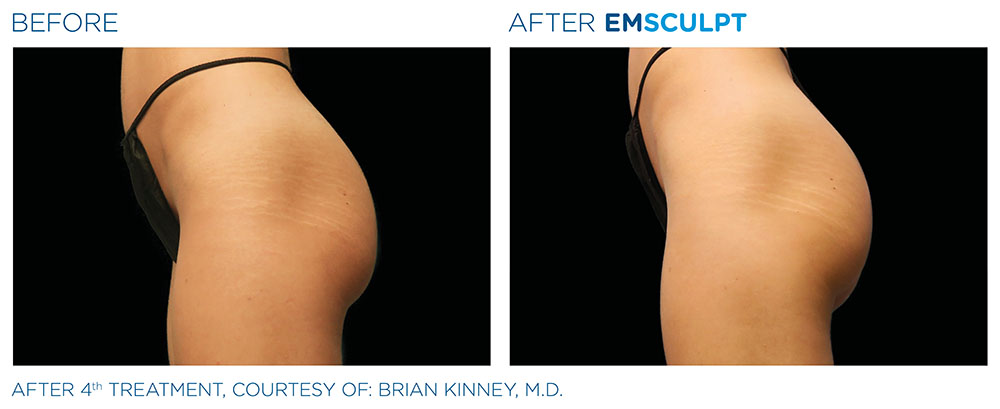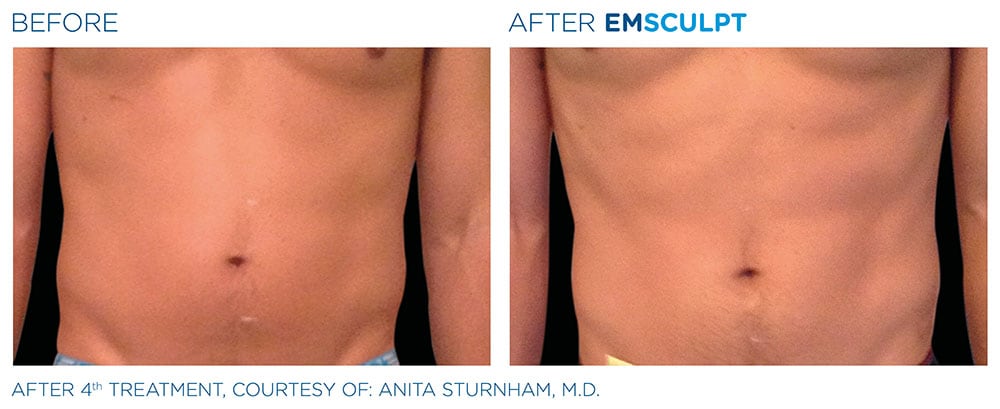 EMSCULPT® Videos
Emsculpt MOA for noninvasive butt lift

EMSCULPT® MOA for muscle toning and body contouring

Emsculpt® – MOA – buttocks and abdomen area
Contour Your Body
With EMSCULPT treatments, you can enjoy the slimming, more defined body contouring results you want without the downtime of cosmetic surgery. The latest technique that this technology offers will assist in sculpting and contouring your abdomen or buttocks. If you are ready to build and strengthen your muscles, EMSCULPT can deliver the results you want. We invite you to call our Atlanta, GA plastic surgery center, and schedule your consultation today to learn more and to see if you may be a candidate for this innovative procedure.