Underarm sweating while you're exercising or nervous is normal, but excessive sweating that stains your clothes and causes an embarrassing odor is a medical condition known as hyperhidrosis. John Connors, M.D. Plastic Surgery offers treatment for excessive underarm sweating using the miraDry system. miraDry from Miramar Labs is approved by the Food and Drug Administration (FDA) to safely target and eliminate sweat and odor glands in the underarm area. Since you have about two million sweat glands spread over your body with about only 2% in the armpits, you can easily live without these. After a miraDry treatment, you can enjoy an active lifestyle even more without worrying about wet marks, deodorant streaks, stickiness, and strong odors. miraDry is a fast, noninvasive procedure offered by Atlanta, GA plastic surgeon Dr. John Connors to help patients free themselves from underarm sweat.
Explore Topics on this Page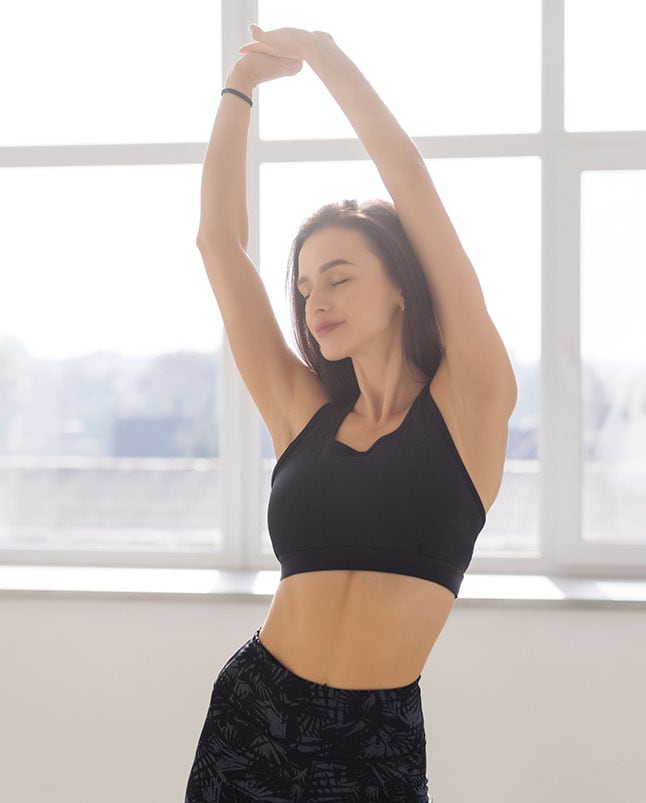 Procedure Technique
miraDry treatments are performed in one of our minor procedures rooms. To initiate your treatment, the area under the armpit is marked, cleaned, and then numbed with a topical anesthetic to make you more comfortable during your procedure. Next, the miraDry device will be passed over the skin using light suction to bring the sweat glands closer to the surface of the skin. The miraWave heated energy works on the sweat and odor glands while the surface of your skin is kept cool by the device. Most treatments take about one hour while you can relax comfortably throughout the process.
What To Expect
After your treatment, your underarm area may have temporary swelling, soreness, numbness, or tingling for a few days, but you will have an immediate reduction in underarm sweat. Sweat glands do not come back once they are destroyed so your results will be long-term. To obtain the best results possible, two treatments spaced about 2 – 3 months apart are recommended. You can resume normal activities right after your treatment, but it is best to avoid strenuous activity, like exercise, for a few days.
miraDry® FAQs
Excessive sweating — when is it time for help?

We have all heard the phrase, "don't ever let them see you sweat." Unfortunately, those with excessive sweating cannot control their sweating and it is not only visible but causes other symptoms as well. Hyperhidrosis is an actual condition that can disrupt life and cause social anxiety. Excessive sweating occurs when you sweat uncontrollably out of the norm or more than would be expected based on the surrounding temperature, stress, or activity level. When the sweating starts to interfere with everyday normal occurrences, it is a good idea to seek help.

Is miraDry right for me?

miraDry treatments are helpful for both men and women and can be extremely beneficial for those who suffer from excessive sweating. If your sweating causes you ongoing anxiety or embarrassment, you may be a candidate for this treatment. miraDry is most commonly used for sweating under the armpits, but it can also be used for sweating on the face, the palms, and other areas where sweating occurs.

How many treatments?

While the best results are noticed by most patients after their first miraDry treatment, numerous research clinical studies have shown that most patients will experience an 80% reduction in underarm perspiration after their second treatment. The majority of patients will need at least two treatments spaced 2 – 3 months apart.

Is this safe?

miraDry is FDA approved as a long-lasting solution to hyperhidrosis. Since only a small percent of your body's sweat glands are found under the arm, it is safe to significantly reduce sweat glands in the armpits with miraDry treatments.

How long do the results last?

The results from a miraDry treatment are long-lasting. Once the sweat glands are destroyed after a miraDry treatment, they do not grow back. Therefore, patients can take advantage of significant relief from their excessive sweating condition.
Say Farewell To Worry
Stop worrying about underarm sweat and odor with a fast, minimally invasive miraDry treatment at John Connors, M.D. Plastic Surgery. Save your clothes from sweat stains and deodorant marks and save your skin from the toxins and chemicals found in most antiperspirants. No matter how hard you work out or how nervous you are, you'll still look calm, cool, and confident. Contact our Atlanta, GA practice today for more information or to schedule your appointment.